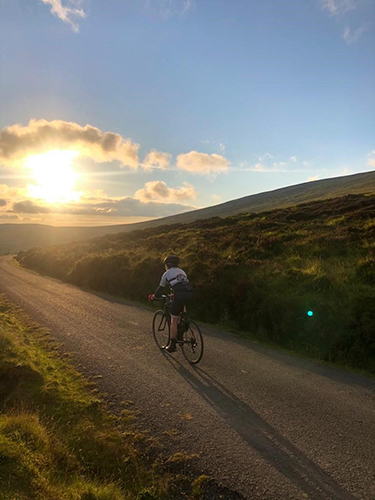 On Saturday 26th June myself and two fellow cyclists undertook the toughest climbing challenge in the world – to cycle the height of Mount Everest in one day. Yep, it's a thing, Everesting, look it up. The rules are simple – one climb up and down without any deviation from that hill until finished – 8848 vertical meters. We chose Sorrell Hill in Wicklow with a climb of 257m over 4.5km. That is 35 repeats. We all three completed the minimum of 8848m, I started at 12am and finished at 12.10am the next day – a little over 24 hours.
Thanks to everyone who came out to support us throughout a long day.  Special thanks to the lads that did some repeats alongside us. Our group have cycled a combined total of over 50,000m.
There have been 86 Everests completed in Ireland and I'm ranked number one, that is I'm the oldest to have completed this gruelling challenge.
Why do this? Because it was there to be tackled. Also we are lucky to be fit and healthy to train.
And most importantly we are trying to raise much needed funding for the Jack & Jill Children's Foundation who provide  care for children under six who have life limiting conditions, in their home. We went up the hill for Jack & Jill.  Many thanks for your support and donations.
This Charity can be supported by sponsoring via this Just Giving Page.