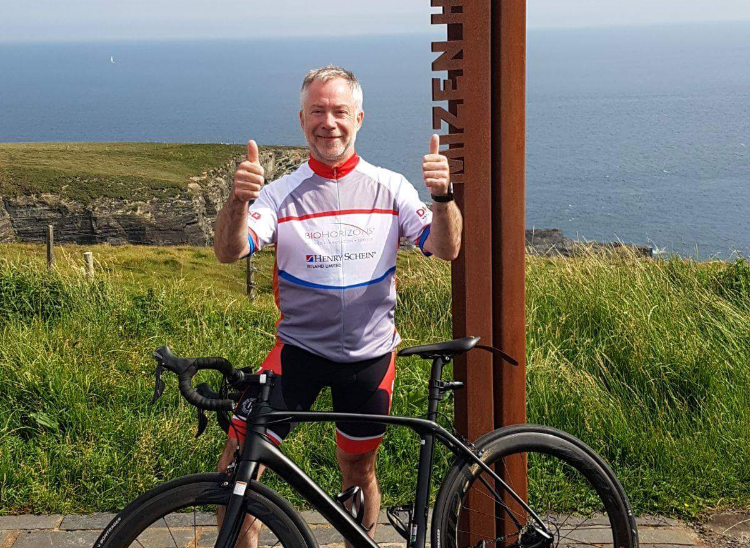 Someone is diagnosed with blood cancer in the United Kingdom every 20 minutes. Henry Schein Ireland and BioHorizons UK & Ireland teamed up for a joined charity cycle to raise awareness of blood cancer and the crucial work of DKMS, a global non-for-profit organization that is dedicated to the fight against blood cancer through recruiting blood stem cell donors.
After Ken O'Brien, General Manager of BioHorizons UK & Ireland, had completed a similar charity cycle in 2016 in favour of DKMS, he intended – together with Paddy Bolger, Managing Director of Henry Schein Ireland – to lead a group of ten volunteers who planned to cycle the length of Ireland from Mizen to Malin from 21 to 24 June, 2017, a distance of about 600 km. But it turned out differently than expected. Due to personal reasons and various injuries, since starting the training, the team reduced to just one: Paddy Bolger. Nevertheless, he accepted that challenge and decided to start on Thursday, 22June  and to finish on Friday June 23 and succeeded after 22 hours of cycling it two stages between 10 and 12 hours with an average pace of 26 km/hour. Paddy Bolger was accompanied by Ken O'Brien in a support vehicle, driving closely behind Mr. Bolger to ensure his safety. The vehicle had a banner to raise awareness of DKMS and carried a spare bike, wheels and supplies for the two day event "and Ken O'Brien provided a lot of encouragement for me," said Paddy Bolger.
He added: "We know that dentists play a fundamental role in the early diagnosis of leukemia as the first symptoms of disease amongst others occur in the oral cavity. So this is a perfect opportunity for professionals in dentistry of any kind to raise funds for DKMS. I just had to do it."
Ken O'Brien thanked him: "I am very greatful that Paddy waved the flag and did the next step in what was started last year with our first DKMS charity cycle. This might turn out to be a Henry Schein/BioHorizons company tradition and the logical conclusion would be a tour around Ireland in 2018 – together of course – and hopefully with a great supporting team." He added: "A lot of us may play an important role in helping save lives and thanks to DKMS, it can be easier than one may expect."
The vision of DKMS is to provide every blood cancer patient with a matching blood stem cell donor around the globe. Only one in three people in need of a transplant will find a suitable match within their own family.  Anyone in the UK aged between 17 – 55 and in general good health can register with DKMS please visit dkms.org.uk/register-now.
This initiative is part of Henry Schein Cares, the global corporate social responsibility program of Henry Schein. Henry Schein Cares stands on four pillars: engaging Team Schein Members to reach their potential, ensuring accountability by extending ethical business practices to all levels within Henry Schein, promoting environmental sustainability, and expanding access to health care for underserved and at-risk communities around the world. Health care activities supported by Henry Schein Cares focus on three main areas: advancing wellness, building capacity in the delivery of health care services, and assisting in emergency preparedness and relief. An important part of this work is raising awareness for cancer and cancer prevention and providing support for cancer patients and their families.
This challenge can be supported by sponsoring at this Just Giving page.
About DKMS
DKMS is a global not for profit organisation that started in Germany in 1991 around one family's search for a donor. Dr. Peter Harf founded DKMS in honour of his wife Mechtild, who had sadly lost her battle with blood cancer. Peter promised his wife to help every blood cancer patient searching for a matching donor.
To date, DKMS has registered 7.5 million blood stem cell donors worldwide including 300,000 UK donors. Over 60,000 people around the world have received a potentially lifesaving blood stem cell donation through DKMS.
Today DKMS operates in Germany, USA, Poland, Spain and the UK. DKMS is dedicated to the fight against blood cancer through recruiting stem cell donors and providing second chances at life; creating awareness of blood disorders and raising funds to match donor registration costs.
DKMS seeks to improve blood cancer therapies via its own research carried out at its Clinical Trials Unit, located in Germany. DKMS launched in the UK in 2013. DKMS is the trading name of DKMS Foundation, a registered charity in England and Wales (1150056) and Scotland (SC046917). DKMS is a limited company registered in England and Wales (08151279).