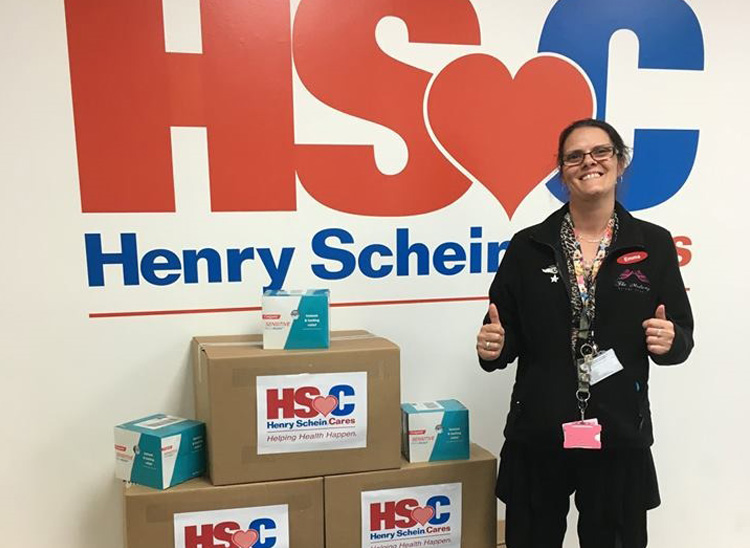 Henry Schein Team Members supported two good causes.
Helping the homeless get back on track…
Henry's Angels, a group of volunteers from Henry Schein UK, have collected clothing and toiletries to support Medway Street Angels (Charity Reg. No. 1176617), a street outreach service for homeless people in Medway, Maidstone, and Swale. Software of Excellence,  a Henry Schein affiliate providing dental software and services to boost practice performance, held a raffle and donated the proceeds to Medway Street Angels, which will allow the organization to continue their good work providing meals, blankets, and much needed items.
Ellie Nightingale, Team Schein Member and one of the founders of Henry's Angels said: "Medway Street Angels is an amazing charity. They are on call 24/7 and their volunteer teams work throughout the Medway Towns providing hot food and drink, clothing, toiletries and camping essentials to those in need. They heavily rely on fundraising and grants and we are very happy that we were able to donate such a large amount."
Moonwalk London helps combat breast cancer…
Another group of Henry's Angels supported the MoonWalk London in 2018 for the seventh year running. MoonWalk London has been organised by grant-making breast cancer charity Walk the Walk for 21 years. *) The team, led by Team Schein Member Carol Vaughan, made their way to Clapham Common to take on several important organisational tasks including manning the food queue, working in the merchandise shop, and motivating and encouraging the walkers.
"I was extremely proud of the team who all worked so very hard to support this emotional and empowering event," said Ms. Vaughan. "We met some really inspirational people coming together to fight a battle with a smile and sheer determination to succeed. We had the opportunity to share with a number of people what Henry's Angels do and how we try to contribute to the wider community. It was a privilege."
How Henry's Angels started…
Henry's Angels was formed in January 2011 by Team Schein Members, who wanted to put together a lasting programme of volunteers wishing to give back to the local community. Henry's Angels is present in four locations in the UK, and having organized more than 40 projects that have included in excess of 400 volunteers working more than 4,000 hours. The Angels support at least four projects each year and have already received tremendous support from local companies, hotels, and services. Henry's Angels believe that time is the most valuable commodity they can give and together they can make a big difference.
Henry's Angels is part of Henry Schein Cares, the global corporate social responsibility programme of Henry Schein, Inc. Henry Schein Cares helps increase access to care for underserved populations through three focus areas: wellness, prevention, treatment, and education; emergency preparedness and relief; and health care capacity building.